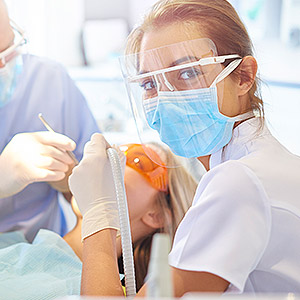 If you're serious about healthy teeth and gums, you most likely head out a couple of times a year to your dentist for a teeth cleaning. You'll likely not only interact with your dentist, but also another member of the staff: a dental assistant.
Your time in the dentist's chair is usually pleasant and, well, routine, but what your dental assistant does for you is anything but routine. The few minutes you spend together can give you a super-boost toward a healthier mouth.
March 6-12 is Dental Assistants Recognition Week, and a great time to pay tribute to these dedicated professionals who make such a positive difference on your oral health. It's also an appropriate time to take a closer work at what they do.
Removing plaque and tartar. Even if you're a brushing and flossing ninja, it's pretty difficult not to leave some plaque behind. That plaque can also interact with saliva and harden into tartar, which can trigger disease just like the softer form, and is impossible to remove through daily hygiene. With their tools and training, dental assistants are skilled with finding and removing plaque including stubborn tartar.
Supporting your hygiene practice. Speaking of brushing and flossing: While defeating plaque depends to a large extent on "showing up each day" to practice personal hygiene, being able to do it proficiently can put you over the top. Your dental assistant can help you a great deal in perfecting your brushing and flossing technique—showing you how to do it better and monitoring how well you're doing it.
Checking for problems. Your dentist will usually have the last look at your teeth and gums during your visit. But your dental assistant will also be on the alert for potential problems too. They'll usually be the ones performing any scheduled x-rays. They'll also be observing closely the condition of your teeth and gums during the cleaning.
Putting a little polish to your smile. While a dental assistant's focus during your visit remains steadfastly on your health, they can also give a boost to how your teeth feel and how they look. Plaque and tartar can dull teeth, so removing these deposits can go a long way toward releasing your teeth's natural shine. Your cleaning usually ends with a bit of polishing that can further enhance your smile and make your teeth feel great!
As you can see, dental assistants are an essential part of your overall dental care. Without them, keeping your teeth and gums healthy could be a much harder task.
If you would like more information about dental care in general, please contact us or schedule a consultation. To learn more, read the Dear Doctor magazine article "Dental Hygiene Visit."